No, it's not what you're thinking (I won't be talking to you about the latest in the quilted blanket world) I'm here to talk to you about one of my favorite trends in
fashion
. Yep, the quilting of skirts and dresses came around the first time in 60s and is back now with a vengeance - and an edge. Reworked in heather greys and leathers, the quilting trend is in high gear in street style and at Street Scene! Below are some of my favorite street style snaps featuring quilting.
Barbara Martelo via stylesaint.com - Love the high waist and zips in this leather skirt!
via whatstrend.com - this sweatshirt looks so preppy chic over a patterned oxford
via fashionbombdaily.com- this simple white quilted tee both plays with the proportions of the outfit and plays off her floral skinny jeans fabulously
via mydogandmypony.blogspot.com- love the quirkiness to this outfit and the print mixing!
via streetstyleseconds.com - quilting can also be super boho - love the volume this jacket creates!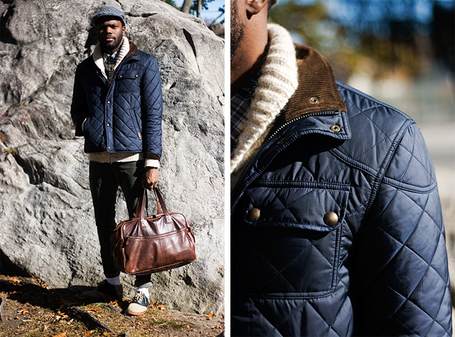 via scoop.it
-
quilting isn't just for women (though this outfit could easily be translated)! The layering of a plaid shirt, shawl-collar cardigan all under a well-fit quilted jacket is perfect for fall
We've got our fair share of fabulous quilted items, too! Below are my absolute favorite items in the store - but there are even more than what's pictured!
A faux Chanel purse is a great and easy way to add some quilt in your life! $16
This yellow printed pant and vest set are a lot at once but worn separately, could really be fun to play with $42
This mini dress is incredible! It has a knit body but the skirt of the dress is quilted. We've never had anything in like it! $30
The best part about quilted items is their versatility. You can dress them up or down, play with volume and shapes, prints and textures. To help you integrate some quilt in your life, I've also trolled the internet to find some affordable pieces that could be reimagined in any number of ways!
Until next time!
-Maggie